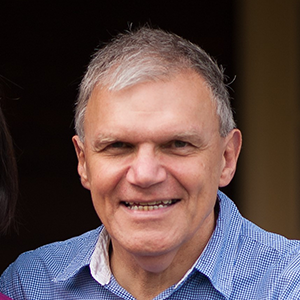 Nick Woodhams
Nick Woodhams is a Business Owner, a Fellow of the Institute of Chartered Accountants in Australia, and holds a Masters Degree in Environmental Management from the University of New South Wales, Sydney.
Nick is dedicated to the pursuit of low-cost, sustainable, clean water and sanitation solutions. [Sustainable environmentally, socially, technically and financially]. He is married with 3 adult children and 6 beautiful grandchildren.
Stephen Hain
BE (Civil), Ph.D. (Engineering), M.I.E. Aust, MAIPM, GAICD
Stephen is a Civil Engineer with over 35 years experience in the engineering and construction industry for the resources and the infrastructure sectors. For the last 25 years he has managed HAIN Consulting a project management consulting company. He has conducted project management development activities for over 10,000 people in 17 countries.
Stephen has known Nick since 1989 when they were members of APEX, a not for profit organisation, involved in supporting community based projects. Stephen's interest in assisting developing countries was sparked after reading Paul Polak's book "Out of Poverty – What Works when Traditional Approaches Fail". When Nick suggested his plan for assisting poor communities to improve water, sanitation and hygiene (WASH) facilities through a community based business model it provided an exciting opportunity for Stephen to contribute his practical engineering and project management expertise to a life changing venture.